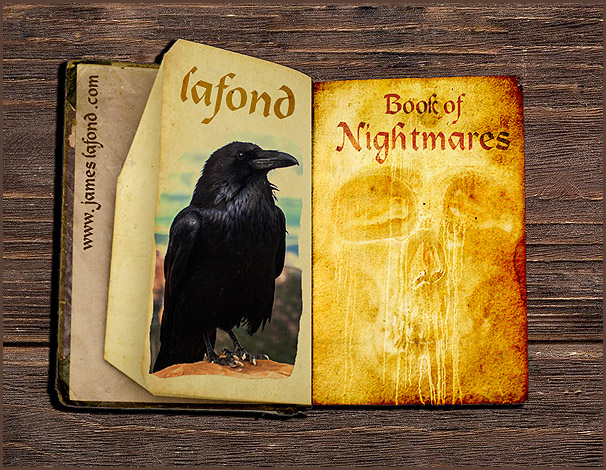 The dreams James LaFond has allowed his readers access to are markedly energetic, vivid, and adventuresome in large part. While many of the dreams do contain violence, the violence rarely involves real bloodshed and murder, although there is one that comes close, as I recall. And a few of them are just simply downright childlike, fit as a fairy tale, touching, and charming.
Fantastic Voyage Revisited
James LaFond's Book of Nightmares is a short collection of the author's dreams, largely from March 2019. LaFond's dreams are violent, sexual, whimsical, sometimes long and sometimes short. They provide a glimpse into the subconscious mind of a man who is uncommonly candid with his conscious mind, which he has shared with readers in many memoirs of his life as a grocer in one of the world's most dangerous cities.
"I'll dare say, James, from what you write here, an astute reader can only infer that you don't understand why your dreams are violent and why they really exist. This is the general nature of dreams: they humiliate and torture. The Czech novelist and philosopher, Ladislav Klima, said, 'Dreams are masochistic.' Also, more a student of Carl Jung than of Sigmund Freud, psychiatrist Maurice Nicoll, once a student of G.I. Gurdjieff, wrote in the last chapter on responsibility in his book, Dream Psychology: 'No one must expect to live in contact with the unconscious without being constantly humiliated. The honest man dreams of theft. The pious man dreams lascivious dreams. The shadow and undeveloped parts of the self dwell in the unconscious and show themselves in dreams.'"-Charles Steiner, Editor
About the author: James LaFond is the most well-read and well-fought man alive today, and the most prolific writer, having over 150 books in print. He is a historian, diarist, biographer, tabletop game designer, stick fighter, machete duelist, boxing coach and train riding traveling prophet.

eBook? What exactly am I buying?

You'e buying a .
pdf
computer file, a trusted and popular format for digital content.
[
Adobe
] [
Wikipedia: Portable Document Format
]
How do I read/open it?
By 2020 most modern devices have a built-in method for handling these files. If you require software, there is plenty of free apps/programs to read PDFs with. PC users try
Foxit
or
Sumatra
. Mac users try
Skim
. Unix/Linux users, you know what to do. Apple iPhone users → Apple Store. Android → Playstore.
Do you take wampum or bitcoin?
No. But our payment processor accepts all major credit cards.
How will I receive the book?
The store uses an
automated delivery
system. After the Stripe transaction completes, our server will send you an email containing a link to download your book. We use the email provided during the Stripe checkout.
WHERE'S MY EMAIL !?!?
Most of our emails go through. However, some folks' mail providers will block the content thinking it is
spam
(some of James' titles are buzz words for internet filters). If after a few minutes you haven't received anything, EMAIL US at <store@
123
jameslafond.com> and we will resolve delivery. Satisfaction Guaranteed.
When I click on my product link, nothing happens, or a tab opens/disappears. Help!
Occasionally your mail provider will refuse to pop-open email links from 'untrusted' sources. Two workarounds in Windows: [Right-Click] + [Save-Link-As] or you can try [Right-Click] + [Open-In-New-Tab]. If you are using a cellular device, try navigating to your Downloads directory and searching for the file there. If you have no luck, drop us a line at <store@
123
jameslafond.com> and we can send the book as an attachment in an email. Works every time.
Will book(s) be available for downloading/viewing indefinitely?
No. The store encourages you to
download your eBooks
once you receive them. This way, any future misfortunes with our website will not impact your purchase.
Yesterday I bought a book. Today it's been upgraded / rolled into an anthology. I feel cheated.
Let us know. We'll make it right. Because of the mass of Jim's writing and our ever-fledgling efforts to publish it, we are now finding it necessary to bundle older and like-themed store titles, to keep room and stay organized. Moving forward, expect more and more bundles. We appreciate your understanding.