In The Combat Space James LaFond takes the reader through five fields of the combat experience: Mind & Body, Boxing, MMA, Stick & Blade use, and postmodern survival applications from awareness to legal preparedness.
---
Preface
This book was generated primarily by readers of The Punishing Art, Twerps Goons & Meatshields and Being a Bad Man in a Worse World. Readers' questions have been retained. The content has been arranged progressively from Essence [mind & body], Ring [boxing], Cage [MMA], Duel [stick & blade], and Survival, taking the reader from those practices furthest removed in kind and spirit from a lonely encounter in a dark place at midnight [namely the process of mental and physical improvement of training and boxing], through the art of biomechanical combat integration that is MMA,1 on to the use of weapons—which rule the nighttime world—and finally to examples and advice concerning actual criminal encounters.
I trust the reader will find this volume a useful addition to his or her quest to remain an actor in this evil world, rather than the simple receptacle for the actions of those who would do us harm.
-James LaFond, 16 May 2018

But I don't have a PayPal account!
PayPal allows secure
GUEST
purchasing with any major credit card. No hassle.

How will I receive the book?
The store now features an
automated delivery
system. After the PayPal transaction completes, our server will send you an email containing a link to download your book. We use the email address on file with PayPal.
I never got an email. What's going on?
In the unlikely event that you do not receive instant communication, do not panic! The store administrator is made aware of all purchases electronically, and will make every attempt to complete delivery. If more than 48 hours has passed, please contact us at store@
jameslafond.com
Will book(s) be available for downloading/viewing indefinitely?
The store provides a 90-day window during which you are encouraged to download your eBooks. Availability of titles after this lease time cannot be guaranteed.
It is highly recommended that all customers

download

the files they've purchased.
For Windows users, this means right-clicking on the email link, then clicking Save-Link-As (or a logical equivalent).
What is a PDF file?
Reference (Wikipedia):
Portable Document Format
You can read your book using any of the following free software: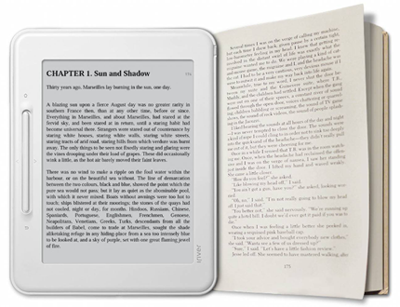 You can also read your book anywhere, anytime, with the new generation of eReaders.
Learn more
.